HOSTAPHAN® polyester films for security applications
High demands are placed on banknotes. They must be durable and fulfil high security requirements. The demands are increasing steadily to ensure counterfeit protection.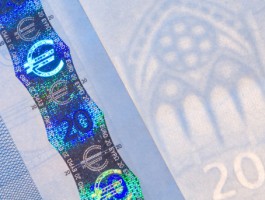 The security thread in banknotes serves to protect against simple colour copying. The high mechanical strength of HOSTAPHAN® films fulfils a requirement for security threads. Holograms provide additional counterfeit protection and are often integrated in the film strips in banknotes. In the manufacturing process itself, our HOSTAPHAN® films serve as process and carrier films for embossing, ink and metal layers that make up banknotes.
HOSTAPHAN® is qualified in many security applications and offers these advantages:
high mechanical strength
durability
consistent high quality
good ink adhesion
excellent printability
Typical applications:
security thread in banknotes
carrier film for holograms
To the top