New Managing Director of Mitsubishi Polyester Film GmbH
April 2018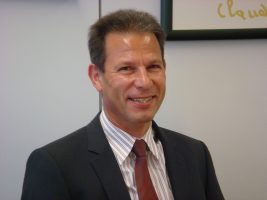 Mr. Thomas Hehl becomes the new President and Managing Director of Mitsubishi Polyester Film GmbH in the Industrial Park Kalle-Albert in Wiesbaden. From April 1, 2018, Mr. Hehl will be managing the European business with HOSTAPHAN® polyester films from Wiesbaden.
At the same time, his predecessor, Ansgar Pohl, will take on further tasks at the European headquarters of Mitsubishi Chemical based in Düsseldorf and Wiesbaden.
The 57-year-old Thomas Hehl has "grown up" with polyester films from Wiesbaden. After training as an industrial clerk at the former Hoechst AG, he started his professional career in film sales. He went through several film divisions in Wiesbaden. During his career he completed several stays abroad, i.a. as Sales Manager in Paris and Brussels, as well as Marketing Director for polyester films in the US. Most recently, Mr. Hehl was COO and Marketing Director for the European HOSTAPHAN® business in Wiesbaden. His goal is to further expand the polyester film business and supplement the portfolio with other products of the parent company. His many years of experience in the company will help him to achieve his goals and secure the Wiesbaden location in the long term.
Thomas Hehl is married and has two grown up children. In his spare time, Mr. Hehl does a lot of sports (marathon and triathlon).