HOSTAPHAN® polyester films for carbon composites (prepreg)
Carbon composites are carbon fibres embedded in cured reactive resins, mainly epoxies. Their precursor products are prepregs (preimpregnated fibres). Their combination of light weight with high strength makes them ideal for use in aircraft and automotive construction or for sports equipment.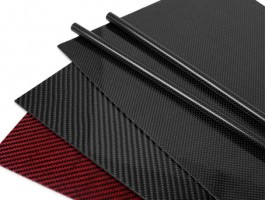 Before their processing, uncured prepregs are supplied as a web-shaped material. HOSTAPHAN® serves as a carrier for the reaction mass in the manufacture and processing of prepregs. The resin cures under heat and pressure, forming the carbon composite. The carrier must be easy to remove, sometimes only after the curing process.
In comparison to siliconized paper, HOSTAPHAN® offers the following advantages:
high dimensional stability under the influence of humidity, heat and tension
no cutting dust
no influence of moisture before processing
higher mechanical stability
impermeable and resistant to reactive resins
inspection possible through the film
silicone coating very highly cured
silicone free release coating available
To the top